THE PERFECT
Sugar Alternative
Life is sweet. And that's why we've crafted the perfect sugar alternatives, just for you.
Our products are plant based and made from carefully selected ingredients derived from nature. They taste great and are teeth, vegan, and keto friendly. Your only choice is which one to enjoy.
Discover a low-calorie world of sweetness where every taste bud is satisfied. PURE VIA, PURE JOY®
DISCOVER NOW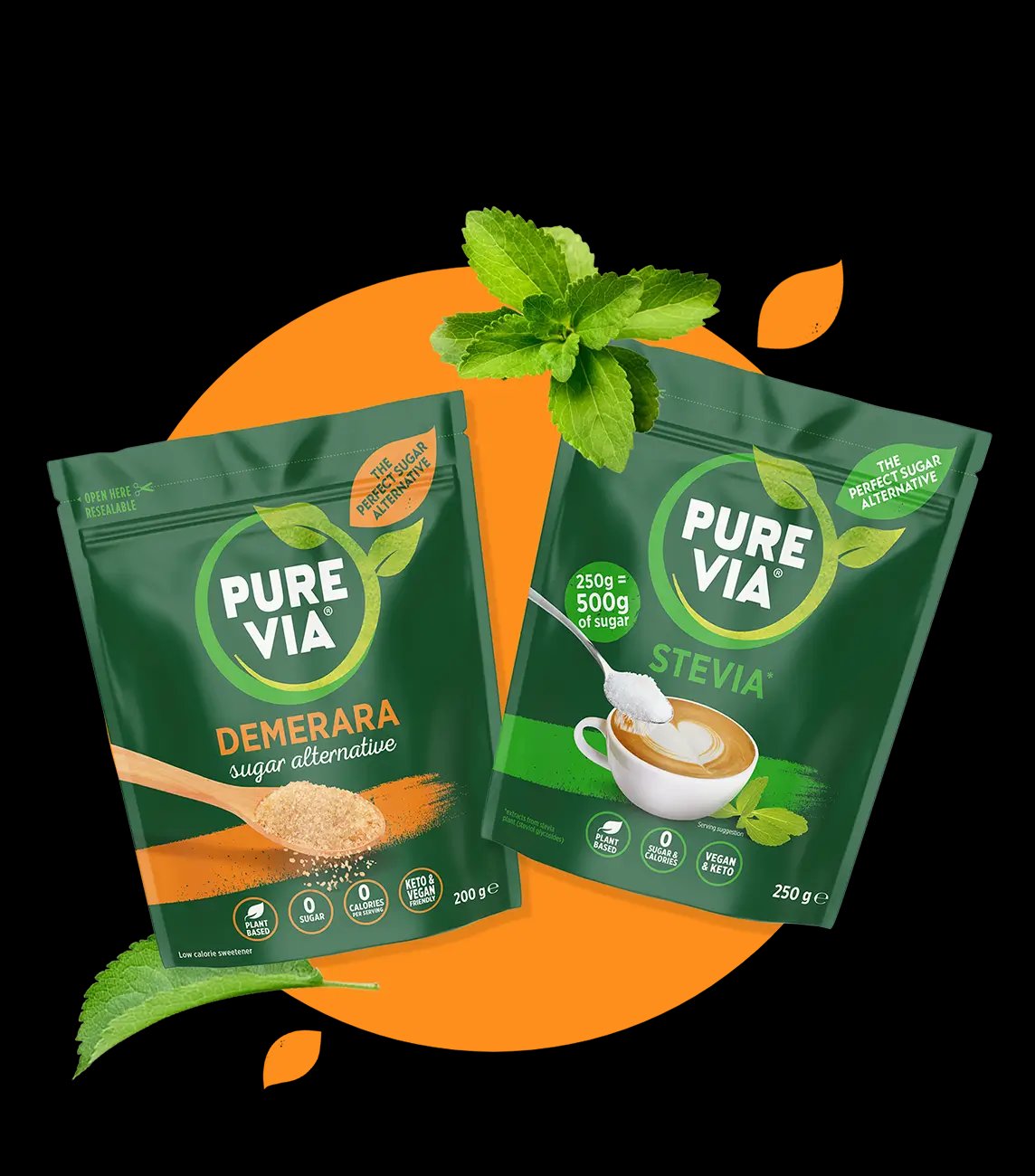 NO ARTIFICIAL COLOURS,
FLAVOURS OR PRESERVATIVES
VEGAN
FRIENDLY
LESS SUGAR
AND CALORIES
DELIGHTFULLY
SWEET AND TASTY
NO ARTIFICIAL COLOURS,
FLAVOURS OR PRESERVATIVES
VEGAN
FRIENDLY
LESS SUGAR
AND CALORIES
DELIGHTFULLY
SWEET AND TASTY
NO ARTIFICIAL COLOURS,
FLAVOURS OR PRESERVATIVES
VEGAN
FRIENDLY
LESS SUGAR
AND CALORIES
DELIGHTFULLY
SWEET AND TASTY
NO ARTIFICIAL COLOURS,
FLAVOURS OR PRESERVATIVES
VEGAN
FRIENDLY
LESS SUGAR
AND CALORIES
DELIGHTFULLY
SWEET AND TASTY
NO ARTIFICIAL COLOURS,
FLAVOURS OR PRESERVATIVES
VEGAN
FRIENDLY
LESS SUGAR
AND CALORIES
DELIGHTFULLY
SWEET AND TASTY
LESS SUGAR,
MORE BALANCE
Pure Joy!
Living well is all about balance and that's why we created Pure Via.
We've carefully selected ingredients derived from nature and created delicious products low in sugar so you can enjoy great tasting sweetness everyday. If you are watching your diet or trying a different approach, with our range there's no need to compromise.
As a snack, In drinks, on fruit and toast, and even in your baking. Pure Via gives you a delicious taste of sweetness, however you choose to enjoy it.
EXPLORE PURE VIA WORLD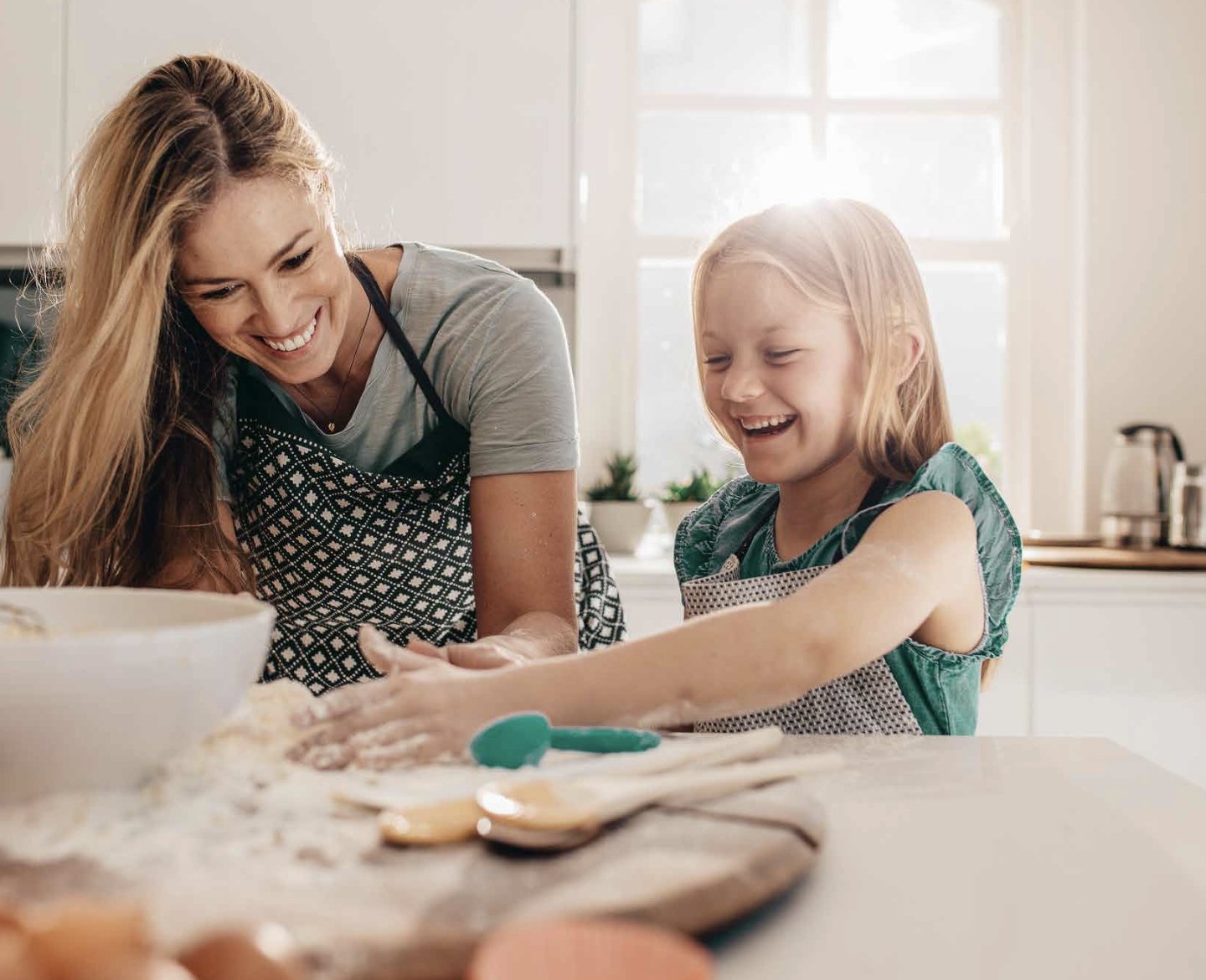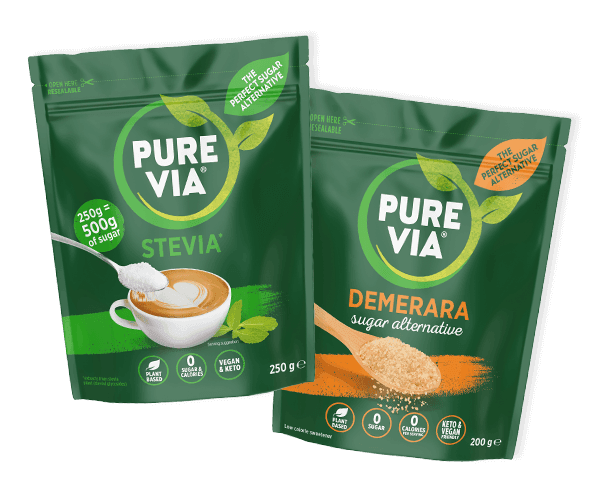 Sugar Alternatives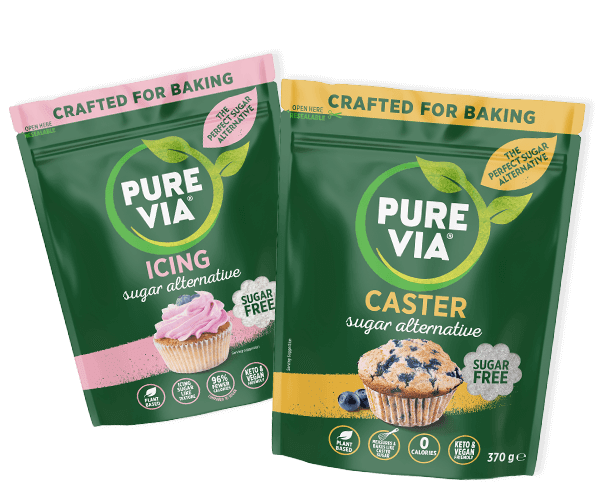 Baking Sugar Alternatives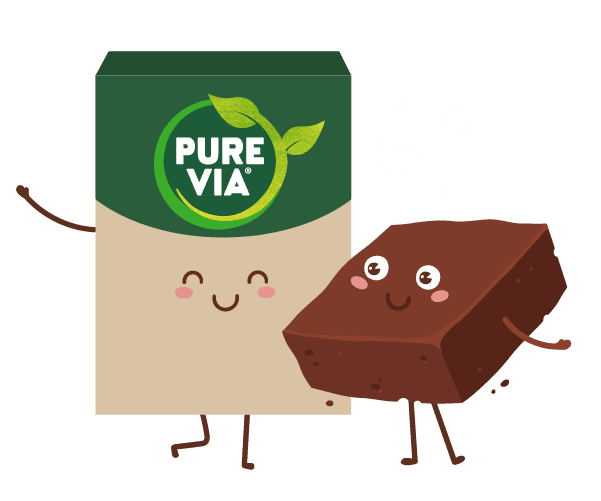 Coming Soon
DISCOVER
A New World of Sweetness
Stevia, Erythritol and Xylitol may sound exotic, but they come from nature, and are crafted by us, for you.
Stevia comes from a plant native to South America. It's been used as a sugar-alternative for centuries. Erythritol and Xylitol are found in many fruits and vegetables. Our Erythritol comes from non-GMO corn and our Xylitol from birch trees and other plants.
And because at Pure Via we believe in the best, we source our ingredients from natural sources, bringing a world of plant-based sweetness to you.
More about our ingredients